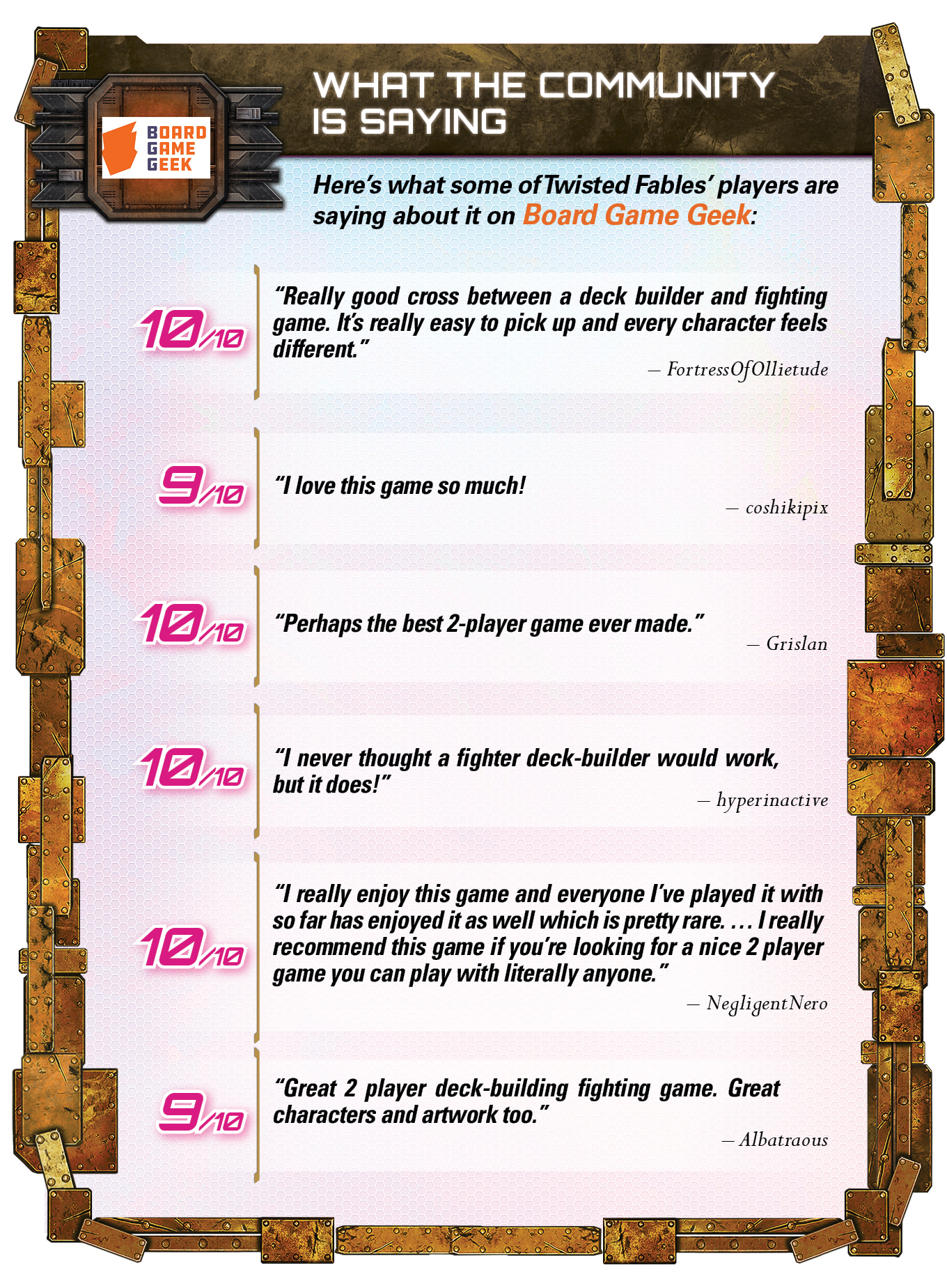 Driven by deck-building, 
Twisted Fables
 is a game for two players in 1v1 Mode or four players in 2v2 Mode. Each warrior in the game will strengthen her abilities, learn potent new skills, unlock devastating special powers, and use unique asymmetric strategies to defeat her opponents. The various specializations a fable can choose from not only provide fantastically flexible tactical choices but also offer one more layer of depth and surprise to this frenetic, frantic fighter. 
Twisted Fables
 brings a highly interactive experience to deck-builders that you'll want to come back to again and again.


Twisted Fables has adapted ten of the world's most beloved heroines from fairy tales, fables, and myth and turned their stories on their heads. Now Snow White has changed from a helpless princess to an undead sorceress, Red Riding Hood has evolved from a hunted girl to a cybernetic assassin, and Sleeping Beauty has metamorphosed from dreaming of her prince to exacting vengeance on her captors. While a grain of the original tales remains, the worlds, stories, and spirits sprouting from it are wildly different, leading to a multiverse of breathtaking vistas and mighty warriors, reflected in-game by 100 beautiful illustrations.

Many DBGs don't require much interaction outside of a player's turn, while most fighting games often depend on movement and a simple "highest number wins" mechanic. Twisted Fables, however, relies on both swift, decisive decisions and deep strategies, with the players defending against and interacting with each other even when it's the opponent's turn.
Twisted Fables also relies on position and movement between opponents. Snow White can poison her nemesis as she maneuvers around her, for instance, while Red Riding Hood can knock back her target, hovering just out of hitting range while she pelts her with firepower. Mulan can throw her enemy behind her and pummel her into a corner, while Kaguya can interrupt her attacker with counterattacks. You will have to constantly watch your opponent's strategy and position to counter it effectively. (And watch out for those Epic cards! If the other player unlocks one at the wrong time, it could spell disaster for you!)

Every character in Twisted Fables has distinct styles and strategies. No two fables act the same. Match Girl, for instance, can stuff her opponent's deck with matches (which essentially function as "wishes" she grants to the other player.) These cards have no adverse effects on their faces and are even helpful early in the game. But if her target allows these immediate, short-term benefits to pile up, then she will become nothing more than a puppet for the Match Girl's infernal whims.
In addition to the general direction a fable leans in, her skill card decks represent three divergent paths, allowing you to specialize in one type of skill or spread yourself across all three. This progression provides many unique and compelling strategies for each game, with the option to play a fable differently every playthrough. Furthermore, each skill card must be matched with a specific type of basic card (each of which has three different levels), making the same skill card more or less powerful depending on the card it's paired with when played. This mechanic simulates the constantly changing situations and positions in a fighting game, recreating the often chaotic back-and-forth feeling of the best fighters.

In Relic Mode, players can discard a skill card from their hands to use the Relic cards on the board. This mode offers new strategies to consider beyond just your position or your opponent's next move: Now, you can also plan around which Relic card would best benefit you – or which one you really don't want your opponent to get. This mechanic allows for an even more heightened level of interactivity and strategy than that provided in the base game.

A standard game of Twisted Fables focuses on the battle between you and your opponent, along with all the entailing tactics. However, in 2v2 mode, you not only have two potential opponents but a teammate, opening up countless new strategies and even more frenetic combat. Fables will leap between the twin fighting tracks, swapping with their teammates to create devastating combos and unique defenses against their enemies. Finally, add in Relic Mode for the ultimate frenzied battle!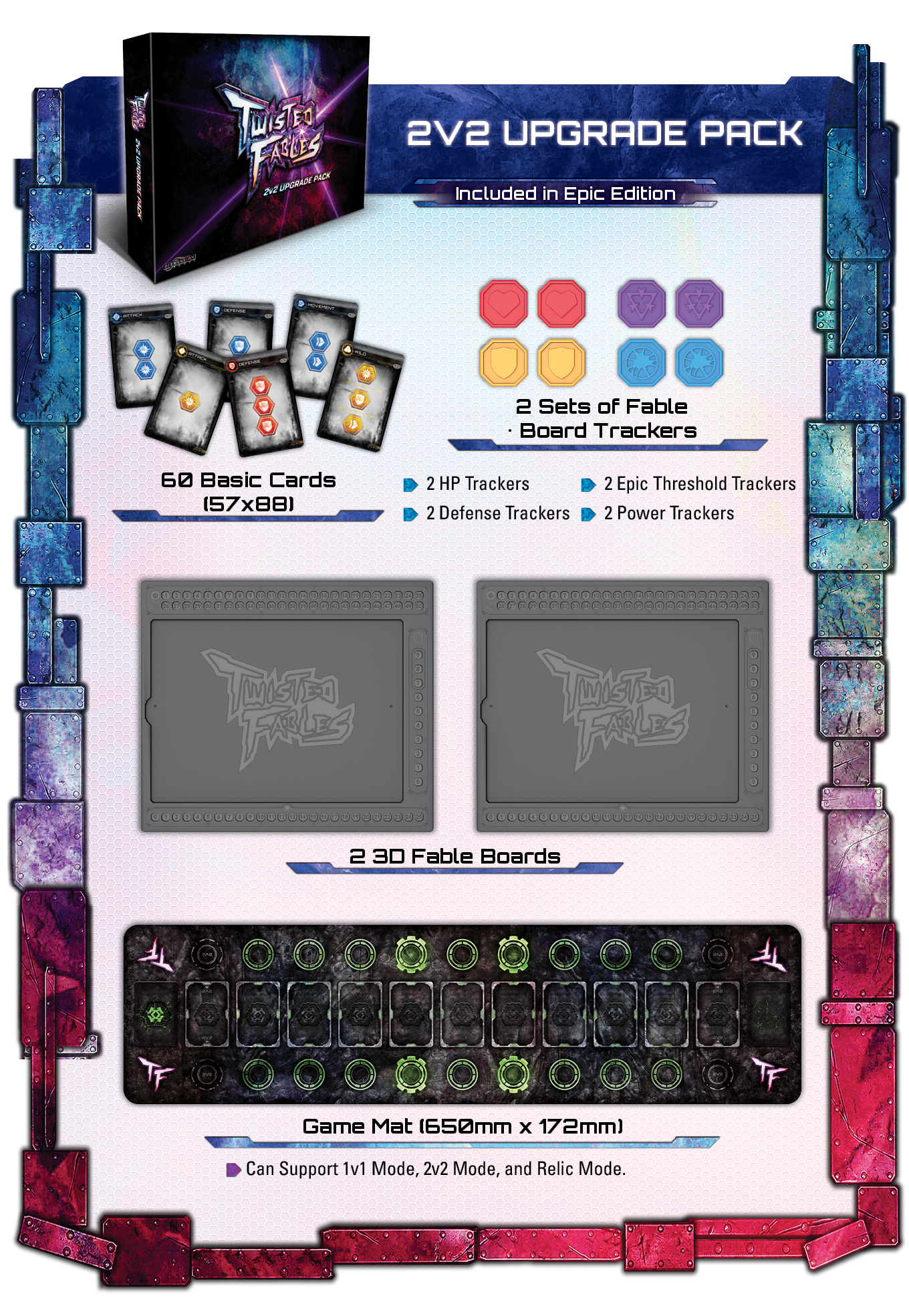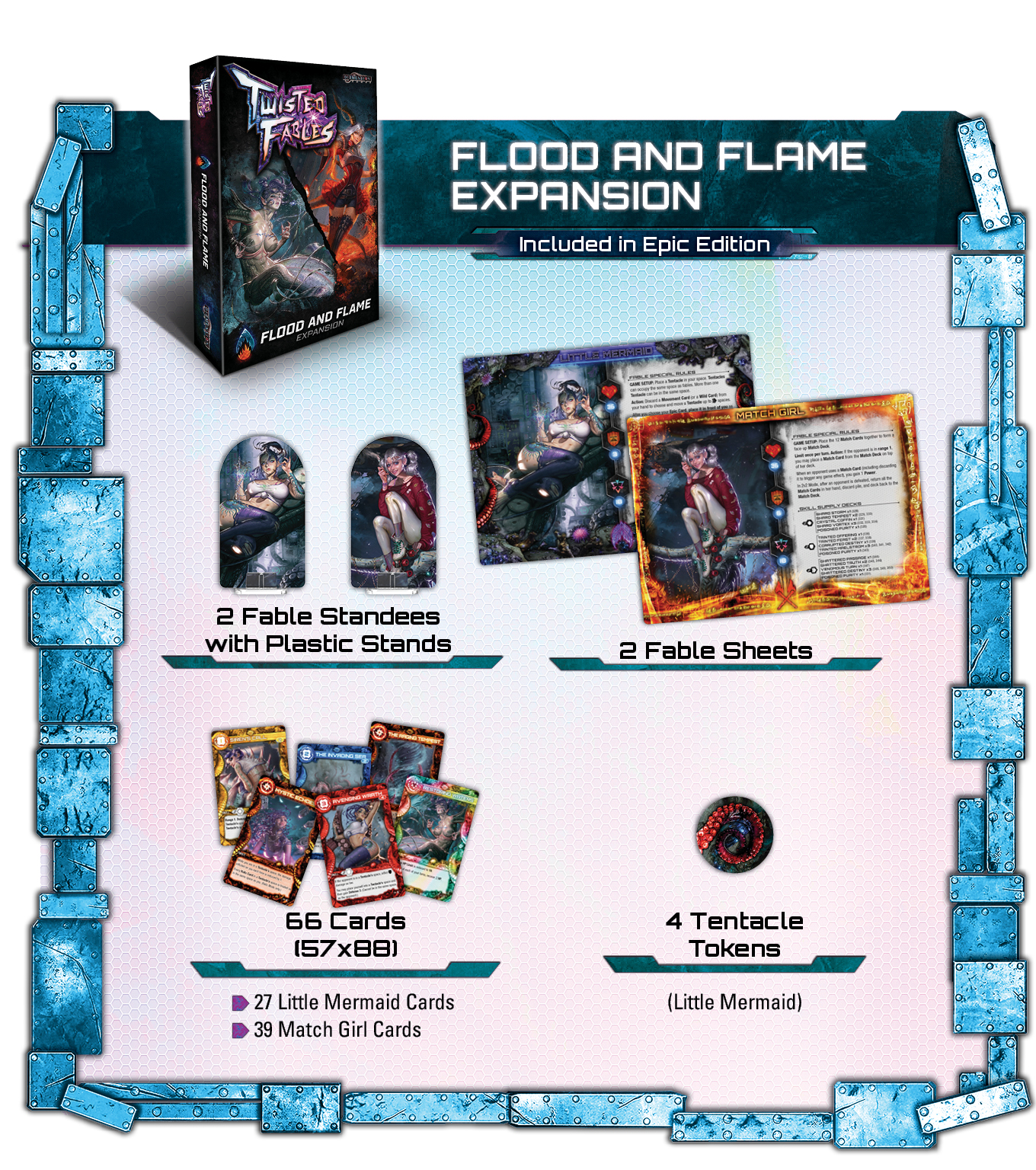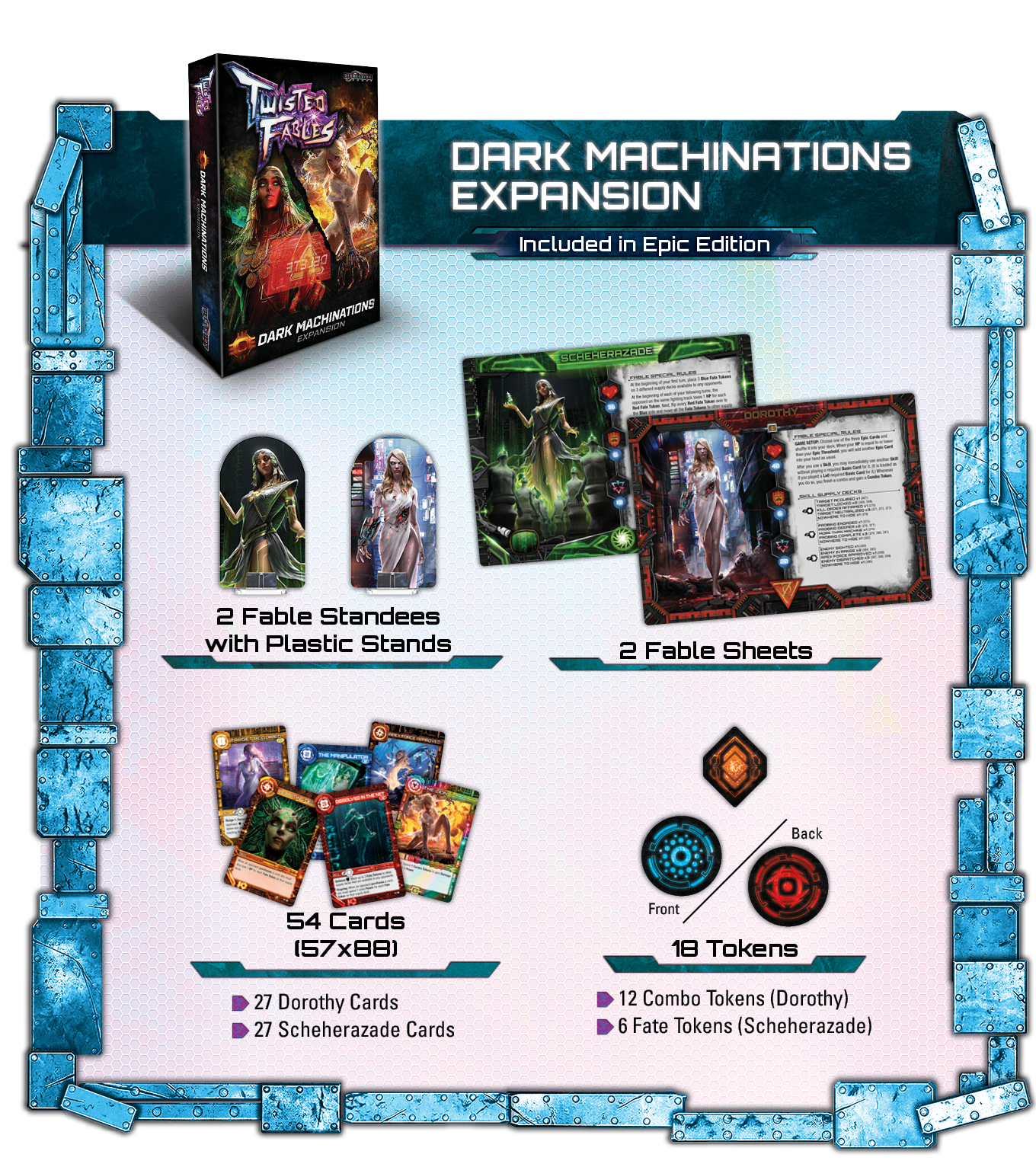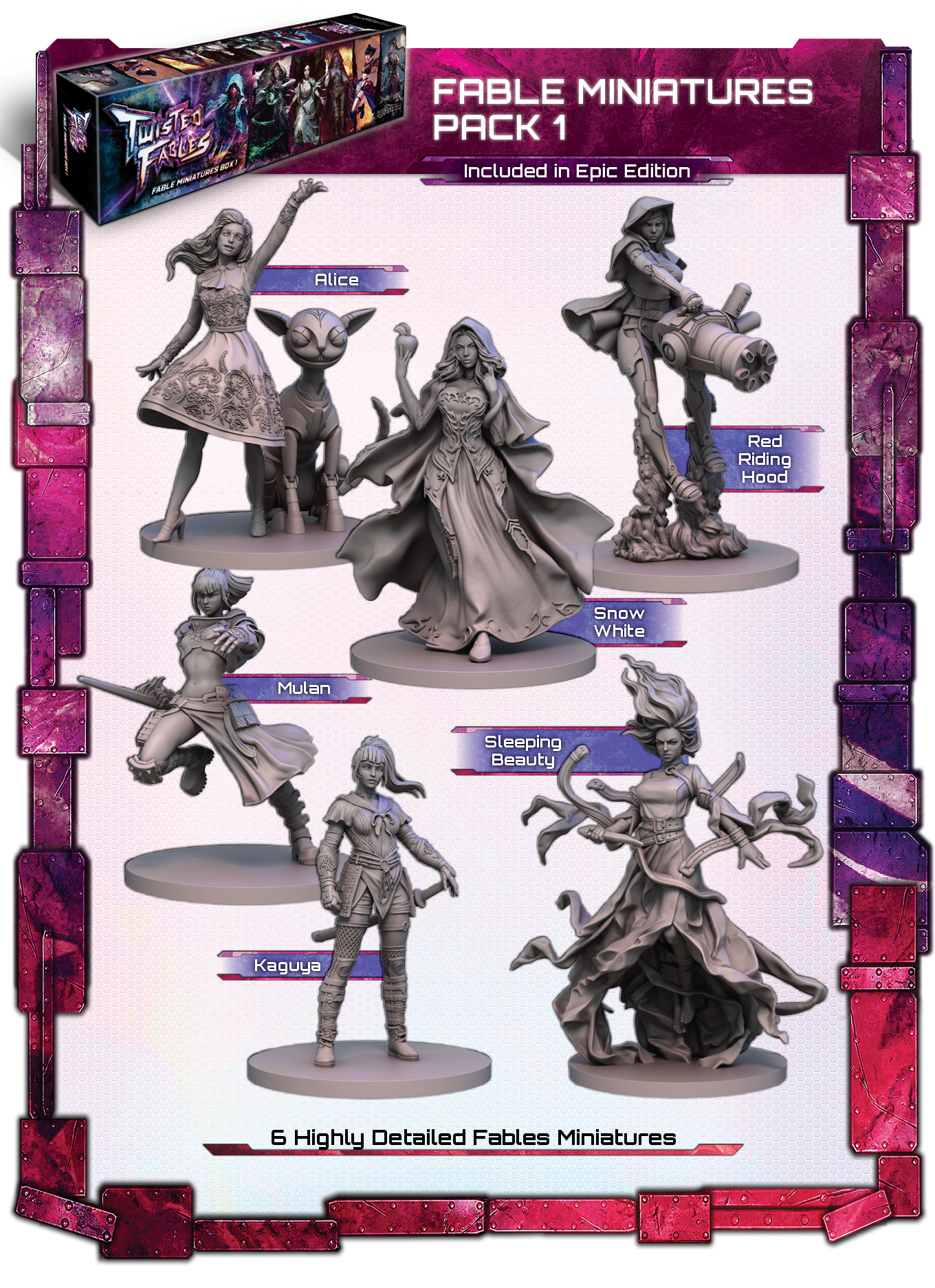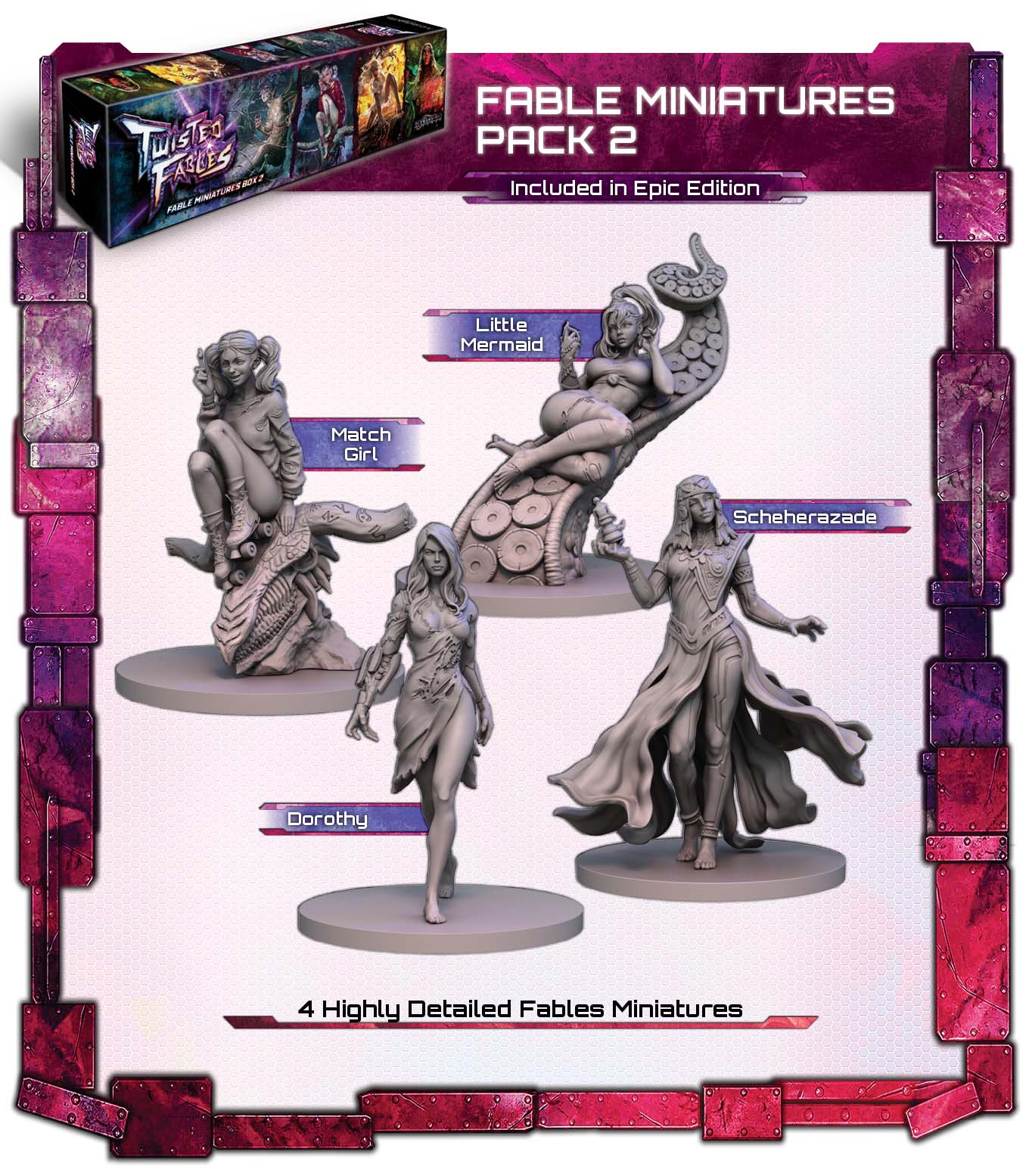 Twisted Fables is a highly interactive fighting game that features fast and strategic deck-building. Fables race back and forth along the fighting track to war against each other in the tradition of 2D fighting games, until one fable (or two fables in the optional 2v2 Mode expansion) defeats her opponent(s) and wins the game.
Unlike most other deck-builders, Twisted Fables focuses heavily on player interaction. You can't live in a bubble where you only consider your actions: players need to adjust their strategies on the fly based on the current conditions and the opponent's tactics throughout the whole game. Additionally, your approach cannot be focused solely on deck-building: you must adopt a tactical fighting mindset, recognizing when to push forward and strike, and when to fall back and bide your time. Every choice could be the crucial one that determines your success or failure.
In the game, each warrior will strengthen her abilities, learn potent new skills, unlock devastating special powers, and use unique asymmetric strategies to defeat her opponents. Even the same character may display utterly different fighting styles depending on her player's decisions. The various specializations a fable can choose from not only provide fantastically flexible tactical choices but also offer one more layer of depth and surprise to this frenetic, frantic fighter.

The resource system in Twisted Fables is both streamlined and strategic. There is no pure "money" card in the game. Instead, there are three types of basic action cards. When you use basic actions, you will gain power that is usable to buy other cards. At the same time, you will fight, defend, or position yourself against your opponent, significantly impacting the course of the game. There are three types of basic actions: attack, defense, and move.
Move Action: Move in one direction by playing movement cards and gain power based on your total movement value.
Defense Action: Increase your defense value by playing defense cards and gain power based on your total defense value. Your accumulated defense can offset the damage inflicted on you before you take damage for one turn.
Attack Action: Play attack cards to inflict damage on the opponent if she is in the adjacent space on the track and gain power based on your total attack value.
Every basic action card type has three levels: the higher level, the more efficient and powerful the card.
As you can see, these basic actions provide fundamental functions in the game while also providing the fables with power, which is the vital resource used to purchase more powerful cards.
Each fable has three unique skill categories that correspond to the three types of basic actions. The order of the skill cards in the supply decks are fixed. After you purchase the top cards, you can buy the higher-level skills beneath. As you do this, you will also unlock precious twist cards.
Purchase skill cards and unlock the twist card in the skill supply deck.
When you use a skill card, you must also play its required basic card to successfully trigger its effect. Each skill's power is based not only on its own level but also on the level of the basic card played to activate it. This mechanic brings variety to the skill's effect and decisive choices in the game: will you use your skills to hurt your opponent, or will you perform basic actions to accumulate power and buy more powerful cards?
When you use a skill card, you must play a required basic card at the same time to successfully activate it.
This skill card requires a movement card to be played at the same time. Red Riding Hood plays a wild card and uses it as a movement card to trigger the skill card's effect: Inflict 1 damage to an opponent within range 1 and knock her back up to 1 (movement value) space.
As mentioned briefly above, after purchasing a certain number of skills, you will unlock twist cards hidden in your skill supply decks. Every skill supply deck offers both a different twist card and a final twist card.
Red Riding Hood's twist cards.
Twist cards offer either critical passive effects or potent one-time-use effects. The twists are a crucial element for building your character and formulating your fighting strategy.
The opponent is out of range. However, Red Riding Hood's twist card allows her to discard a skill card from her hand to increase the range by X (X is equal to the discarded skill card's level.)
Every fable has three epic cards, which are not accessible at the beginning of the game.
Every fable has an epic threshold. After your HP is reduced to or below that threshold, you will secretly choose one of your three epic cards and add it directly into your hand. You will then be able to use it during your turn.
Red Riding Hood's health drops to her epic threshold. She chooses one of her three epics, then returns the other two to the box.
Epic cards provide unique and powerful effects. In the second stage of the game, they can bring devastating surprises that help propel the game to its climax.
When the players are familiar with the game, we recommend adding in Relic Mode. It will elevate the game's strategy to a whole new level.
When Relic Mode is activated, each space of the fighting track will contain a relic card. A fable can use the relic card in her space by discarding a skill card before placing a new relic.
Regular game vs. game using Relic Mode.
Relic cards provide 10 different game effects. Relic cards can make up for the fables' shortcomings and create new strategies, allowing for mind-blowing new tactics.

With the 2v2 upgrade pack, Twisted Fables can support 2v2 game mode for four players. In this variant, there will be two fighting tracks operating at the same time. Each team will feature two fables, with each team member occupying a different track.
Fables can switch their tracks during the game to achieve even more unique and exciting strategies.
In 2v2 Mode, a fable can discard a movement card to switch her fighting track with her teammate.
Different combinations of fables can create vastly divergent encounters – both as team members and opponents.