Manufacturer: Cool Mini or Not
Estimate Arrival: November 2018
The 18th Century is a time of unparalleled advancement in science and technology. The world is being settled. Great thinkers and philosophers are penning their seminal works. New inventions are being created daily. Many eager young students long to be the next Newton, or Copernicus, or Galilei. But who will add their name to the list of greats and be remembered throughout time?
In Newton, players take on the role of students in 18th Century Europe. During their turn, they will play cards from their hand in order to perform Actions of various types. They will attend Universities, research using dusty tomes, and train their own students. There's more than one path to victory, as there's no one way to become a true intellectual giant.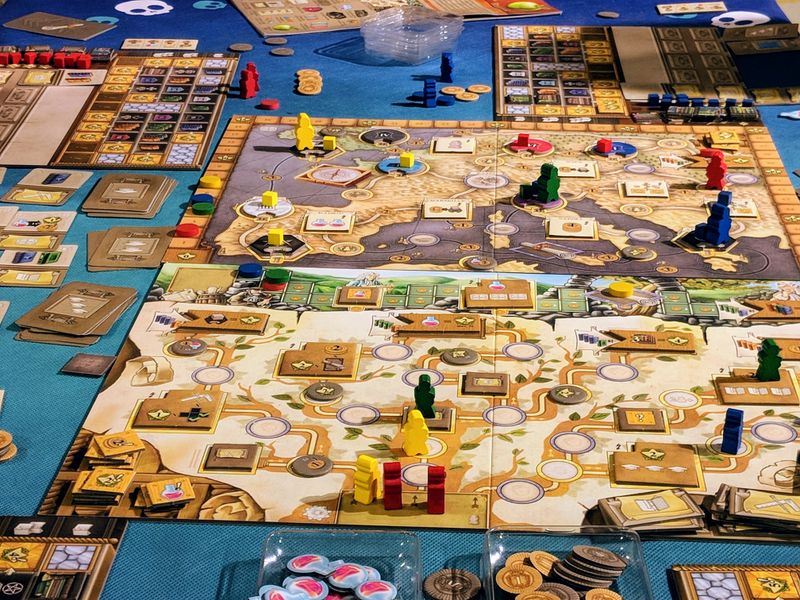 Gameplay
This game is played over 6 rounds. Each player starts with a hand of about 6 identical action cards. Each card has a lower half depicting one of 6 basic actions and an upper half that may or may not have a bonus action (or symbol) on it. The power of each action starts at 1, and is amplified +1 for each other basic action symbol of the matching type already played into your tableau. The basic actions allow you to do the following things:
Work:
This allows you to move up the work track which is mainly used to gain coins. If you land on a few special spaces on the track, you gain bonuses.
Travel:
This allows you to move your large pawn around Europe on the travel board, gaining small bonus tokens and dropping cubes on universities and other bonus tiles. You can only leave a cube if you end your movement at that location, so you may find yourself wasting some movement points throughout the game. The first 8 cubes placed provide no points of their own, but the 9th (1 pt), 10th (2), 11th (4) and 12th (8) do provide points.
Study:
This allows you to gain more cards by drafting from one of three rows (of 3 cards each). The first row requires your action to only have strength of one, the second row needs two, and the third row requires three. You'll be drafting the new cards both for the basic action symbol and also the bonus action or symbol they provide.
Train:
This is where you can move your apprentice up what is essentially a technology tree. Much like the travel board, to gain the major bonuses along the way, you need to land on those tiles. Small bonuses can be picked up as you move through them. You can gain additional apprentices (up to 4) via bonus spaces on the travel or apprentice board, or by spending 5 coins. Apprentices can't move backwards down the tracks, so once they reach the end (which unlocks end of game scoring tiles, and a couple have other bonuses) of the tracks, you need to gain another apprentice before you will want to perform this action again. Like with the other actions, the distance an apprentice can move will be determined by the number of that symbol in your tableau (including the card played).
Library:
This action allows you to place a book tile on a square of your bookshelf. You must meet the requirement for that square though. Many require you to have certain color books showing on your action cards (this would be on the top half of the cards, as a 'bonus') and other require you to have reached certain spaces on the travel board. If you're short on requirements, you can spend one potion (another in-game currency) to substitute for a book symbol you're missing or three potions to substitute for a location you haven't reached. Each column or row of the book shelf will give you points as income at the end of every round. This is a great way to gain points and shouldn't be ignored.
Joker:
This can act as any of the above, and will be amplified by the number of THAT symbol you have in your tableau, but once it's in your tableau, it doesn't modify anything else for that round. It allows for a lot of flexibility. I don't think any more jokers can be drafted as the game progresses.
At the end of each round, each player must tuck a card from the five played underneath their player board, meaning it's basic action symbol will permanently modify actions of that type for the rest of the game, but its bonus symbol (top half of the card) will be covered and no longer usable for any reason. Which cards you tuck under your board will have a direct impact on what strategies you'll be more successful at employing for the rest of the game. You also need to ensure you're drafting more of the type you're doing this with or you won't have ways to trigger the action (except with your joker). Players will then gain end of round income (points, potions, money) for tiles they've collected and bookshelf rows and columns they've completed. Then you're ready for the next round! This is done 6 times and then the game is over. End game points mostly come from objective tiles you've reached.
Contents:
1 Map board
1 Tracks board
4 Study boards
89 Cards
71 Tokens
134 Tiles
4 Scientists
16 Students
48 Travel cubes
8 Markers
1 Rulebook
Ages: 14+
Players: 1-4
Game Length: 90 minutes