Manufacturer: DiceTree Games
Buying and selling paintings can be a very lucrative business if you have an eye for art! That's the idea of the classic Modern Artboardgame. In this new, visually-updated version, five contemporary artists have been invited to share their art to create a game with unique visual appear. From Brazil to Italy, from street stencil art to classic oil paintings, five different styles come together on your table, for appreciation and entertainment.
In Modern Art, you are a Museum trying to buy and sell paintings for the highest rates!
Over four rounds, you and your rival Museums auction various paintings. At the end of each round, the paintings are sold to the bank and the more popular artists become more valuable!
The Museum with the most money at game's end wins, so make sure to buy low and sell high in Modern Art!
This version of Modern Art from DiceTree Games features paintings from Manet, Cezanne, Gogh, Munch and Klimt, as well as works from five Korean traditional artists.
The game includes 94 metal coins for use as money in six denominations: 1, 5, 10, 20, 50, 100. The five lowest denominations will bear the face of an artistic master, while Reiner Knizia's mug will be engraved on the 100 coin. A wooden gavel and base are included so that the auction master can get into character.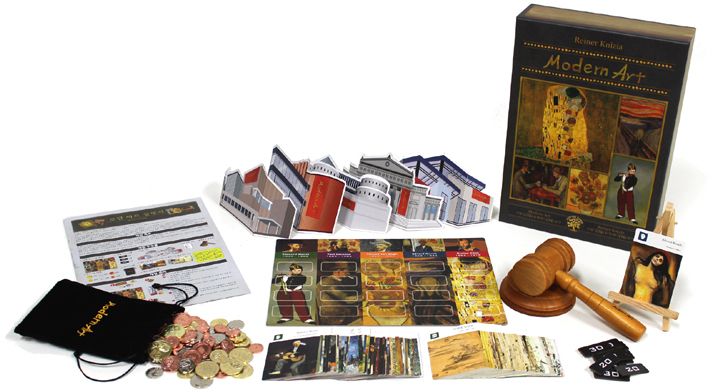 Modern Art Korean edition

It has 2 sets of cards. One includes works from five modern artists Manet, Cezanne, Gogh, Munch and Klimt.

The other includes works from five Korean traditional artists.

Five screens.

94 metal coins which are engraved five modern artists and the game designer Reiner Knizia.

The thick and heavy wooden gavel and base.

Mini wooden easel.

Inner tray can hold all the components including cards with sleeves.

We'll provide auction summary cards with Dutch, English, French, Germany, Italian, Japanese, Polish and Spanish – total 20cards
Ages: 14+
Players: 3-5
Game Length: 60 minutes